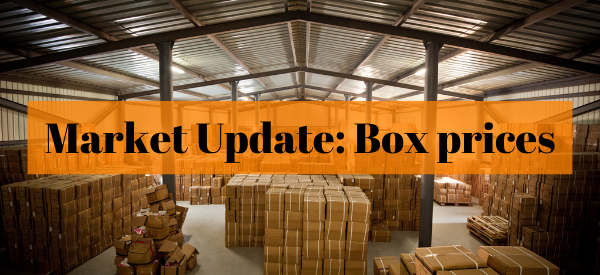 The unprecedented Coronavirus pandemic changed the way consumers shopped for goods. From online shopping to grocery delivery services, more cardboard has been used in the last year than ever before. Stay-at-home orders and stimulus checks fueled online shopping. This requiring shipping boxes that rolled out nearly 407 billion square feet of corrugated product in 2020 according to The Wall Street Journal.
Supply & Demand for Cardboard
Record lumber prices are on the rise. Meaning, the need for corrugated materials has skyrocketed over the last year reportedly showing a year-over-year rise of 3.4%. Online shopping become a contender in the demand. Meanwhile, quarantine ignited home remodels and DIY projects putting the need for cardboard in demand for goods as well. Additionally, corrugated boxes have been listed as a commodity that is in short supply with rising prices for the last five months on the Institute for Supply Management's manufacturing report.
The Coronavirus pandemic also led consumers to home buying. As the market quickly shifted leading home owners in desperate need for packing materials. This abrupt transition may lead your business to search for a corrugated box supplier with the best cardboard box price.
Why Choose Leader Box Corp. for your Business
Located in the heart of Chicago, Leader Box Corp. has been the Midwest's one stop shop for boxes and packaging supplies for over 60 years and counting. We are a family-oriented and operated organization that take pride in offering our customers a strong and long-lasting beneficial relationship. Customize and personalize our services so you can feel confident in using our facility for your boxing needs.
Used Cardboard Boxes Near me
We specialize in buying & selling reusable boxes because every box deserves a second chance. We take your used, overrun or misprinted boxes that you have no use for to help another organization in need. This helps businesses that buy or sell with us to support our green initiative by reusing boxes and saving trees!
Check out some of our box specials that are updated each month at a price that can't be beat. Our ordering process is simple and quick making working with our company an efficient and cost-saving experience. For more information regarding our services, used boxes for sale or to request a quote for your business, contact us today at (773) 890-4500.