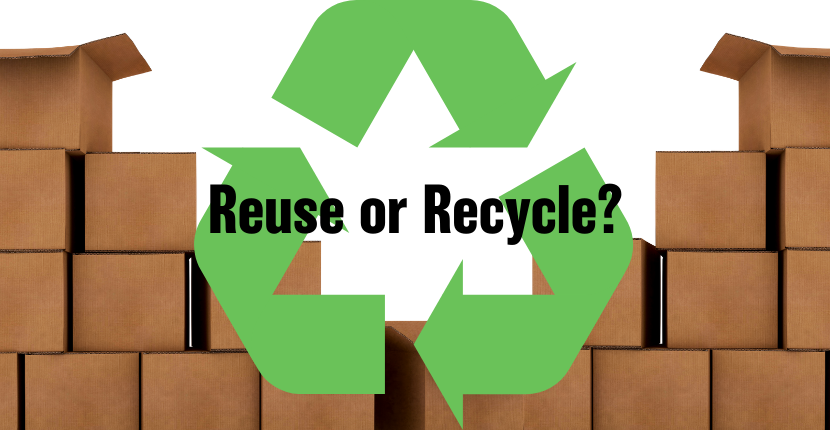 Do you have a surplus of cardboard boxes that you don't know what to do with? It may be hard to decide if you should reuse the boxes you have or recycle them. Follow our tips below from Leader Box on how to decide if you should reuse or recycle your boxes.
How to Recycle Boxes
You might be wondering; are boxes recyclable? Cardboard is one of the most common accepted items that you can recycle. When you recycle cardboard boxes, the old cardboard can be turned into new boxes. But you might be pondering; what if my cardboard boxes are damaged? There are simple measures to take to ensure your boxes can be recycled.
First, cardboard boxes are much easier to store when they're broken down. Make sure your boxes are emptied, then tear off the tape and flatten them. This allows for easier storage.
Next, if any of your boxes have water damage, cut or tear that section out. Damaged cardboard can be very difficult for recycling centers to deal with, even if the water damage has dried.
Lastly, be sure to know your community's recycling center rules and keep your boxes in a safe place until collection day. Cardboard box recycling is a simple and great way to help the environment.
When to Reuse
Cardboard boxes can be used for a variety of things. Moving boxes are a hot commodity and most people do not want to pay a premium at a chain store for them.
Gather the boxes you have that are in the best condition and offer them to a friend in need that is moving or perhaps list them on a resale site. You will be helping someone out and removing clutter at the same time.
An additional option is to compost your boxes. If gardening is a hobby of yours, cardboard can be added to your compost pile to create a mulch that will help your plants grow!
Are you planning on remodeling your home? Cardboard can be used to protect your new flooring or other valuable belongings. Whether you recycle or reuse your boxes, cardboard can be beneficial in a variety of ways.
Are you looking for a place to recycle boxes near me? Leader Box is happy to buy or sell your used boxes for you. Request a quote today or check out our February box specials here.